Roman Daniels Offers a fantastic range of magnificent Made to Measure Suits and Shirts.
For Made to Measure Shirts check out our friends at Austen Brothers, makers of fine pure cotton shirts made in the Jermyn Street Tradition… www.austenbrothers.com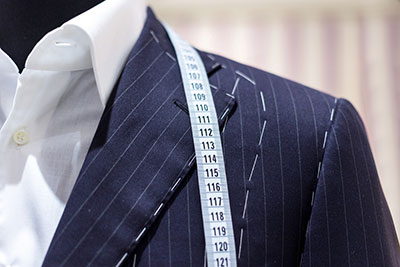 Our Online Made to Measure Suits as well as trousers and vests are now designed and build by our Suit Builder Program!
Here we have created a concise set of choices when designing a Made to Measure Suit.
Suit Builder  is a Roman Daniels exclusive program that coordinates choice, style, convenience and value all in one transaction!
 Suit is a Made to Measure Half canvas masterpiece!
The Roman Daniels Made to Measure Suit includes:
A jacket that is constructed with a floating chest piece, full canvas front plus the finest interlinings and fusibles. All suit jacket finishes are sewn not glued.
Suit Trousers that are constructed with half lining in the trouser legs, a crotch piece and special roll bands in the waist to stop your shirt pulling out.
2 Made to Measure fittings and Measurements – one before and one after construction of the suit. Normal time to receive a suit from time of ordering is 4-6 weeks subject to availability of fabric.
The fabric is an All Season Pure Wool Merino Fabric in both Super 120 and 130.
Build we build your suit from YOUR  selection of superfine merino fabric, suits styles, fits, trims and accessories. Please see below some of our favourite fabrics instock, alternatively if you have something else in mind please let us know.
Whether you want a double breast suit or single breasted jacket with a peak lapel and pic stitch, suit builder makes it easy and seamless all from the convenience of your laptop or phone.
However, if you still prefer to meet for a virtual appointment please click the button below.